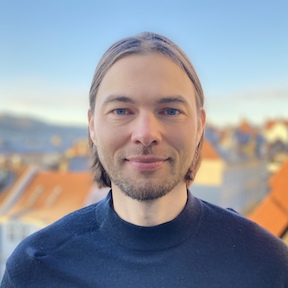 "5 questions" is a series that gives you as a reader some insight into the people in and around Climate Futures. This time, we have talked to PhD candidate at NORCE, Manuel Hempel.
Tell us a bit about your background
Originally trained as an aerospace engineer in Germany where I have been working at the Fraunhofer Institute for Solar Energy Systems I moved to Bergen in 2013 to develop energy and life support systems for space applications. With a strong interest in biology, I researched biological life support systems in which plants take over important functions otherwise provided by technical units. This included research on growing lettuce and tomatoes in future space missions to Mars and the moon. In 2021 I left space behind to start a PhD-position at Norce to fully focus on climate risks in terrestrial agriculture. A topic that fits very well with my long term side job of being a pollination beekeeper.
What is your role in NORCE?
I started as a PhD candidate at Norce in 2021 to work on climate risk in agriculture. I am therefore mainly involved in the sustainable food production node in Climate Futures and am interested in how sub-seasonal to seasonal forecasts can help the agricultural sector to handle climate risks and limit weather-related losses. In this role, I act as a sort of bridge between our climate researchers and the agricultural end-users to communicate climate information, investigate user needs and facilitate the co-production of improved climate services. This includes fieldwork in all main Norwegian agricultural regions, organizing focus groups and interviewing agricultural stakeholders from governance, production and distribution.
In what way are you/your organisation involved in Climate Futures?
As the leader of Climate Futures, Norce has a central role in the Center. All my colleagues in the Forecasting Engine Group, a part of the Climate dynamics department, are involved in Climate Futures in one way or another, working for a better understanding and handling of climate risks in agriculture, aquaculture, shipping, society and energy.
What do you like best about your job?
I really enjoy working in an interdisciplinary field somewhere between climate science and agriculture, being equally involved in natural sciences, agronomy and human geography. This enabled me to get to know and work with a broad range of great people involved in climate research and Norwegian agriculture. With food security being critical for society, especially in times of turmoil, I feel like I am contributing to a meaningful cause by trying to help farmers better deal with uncertainty.
What possibilities do you think can come out of Climate Futures?
I see the true value of the centre in facilitating communication and cooperation between science, practitioners, governance and different parts of society. A better understanding of each other's challenges, methods and needs will, in my opinion, ultimately improve the usability of climate services for all stakeholders involved and effectively impact the way we think about and deal with climate risks in the long run.