Småkraft's historical roots
For more than 500 years, farmers, foresters and other landowners in Norway have utilized the power of water to create value, skills and knowledge by developing industry on their properties. Village communities and farms joined forces to build sawmills to refine timber from the forest. Later, they built mills to process their agricultural harvest, and at the end of the 20th century, some of the rivers were utilized for small scale power plants that produced electricity. The rural communities have lived by and with nature and built and used their knowledge of the powers of water.
In 2002, Småkraft AS started working together with the descendants of the same landowners to generate renewable energy in a modern and sustainable way. The landowners make their waterfalls available for a limited period, while we at Småkraft AS provide the expertise and capital necessary to develop the renewable energy. Together, we share the profits from the power plant for 40 to 60 years, before the power plant falls back to the landowners in line with an agreement with given conditions.
This is how we have created a business model with historical roots that solves one of the biggest challenges of the climate debate: how do we build a bridge between those who want to finance important climate investments and those who are affected by the same climate investments on a daily basis in their local area?
Småkraft as a company
The company started in 2002, and 20 years later it has 216 power plants and produces over 2 TWh of renewable energy in a normal year. This is between 1% and 2% of Norway's electricity. We are now a leading renewables company that specializes in creating renewable energy with small scale power plants in streams and smaller rivers. As a company with a long-term perspective, we develop, build, own and operate hydropower plants. Since 2015, we have 5-folded in size. We invest several billion Norwegian kroner in renewable energy each year and we are one of the fastest growing renewable energy companies in Norway.
Småkraft currently cooperates with over 800 landowner families. These landowner families receive part of their family income from the power plants we own and operate together. We are proud of this collaboration.
On nature's terms
Småkraft uses the natural topography to borrow water that naturally flows in rivers to produce sustainable and renewable electricity with our power stations. When we produce energy, we ensure and monitor minimum levels of water in the rivers, and the water is returned to the rivers when it passes the turbine. The electricity we produce is then transported to the electricity grid and consumed.
We have been aware of climate changes over the past 60 years. What will happen in the next 60?
Since 1958, the runoff in our rivers has increased by 20%. More water is coming. This is important for us at Småkraft, as we need water to create renewable energy. We also see that the water flows differently than before. Precipitation comes more often in the form of more extreme weather, we have more frequent and longer droughts, snow falls more often as rain and we have more floods. This is challenging for us. If all the water comes down at once, it can be dangerous. Floods threaten to destroy our own and other infrastructure and we are unable to use the water to create energy.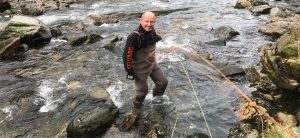 Småkraft uses a lot of resources to understand these changes and how climate change will affect our business in the coming decades. We already have some knowledge, but we want to build more knowledge together with Climate Futures in order to make better decisions in our daily work in the future.

If we gain a better understanding of how climate change and the weather affect the flow of water in our rivers, we will be able to build power plants that are better adapted to the future. We will be able to make more correct strategic decisions on where we should develop new renewable energy. We will become more accurate in our daily, weekly and annual forecasts, which will improve profitability and/or reduce risk.
Why do we collaborate with Climate Futures? 
Småkraft operates river power plants, but today's variation in the power price over the day means that even minor regulation can contribute to increased earnings.
More reliable daily weather forecasts enable us to make better use of water, monthly forecasts can reduce water loss when working at the power plant and long-term effects of climate change can help us make more correct investment decisions.