"5 questions" is a series that gives you as a reader some insight into the people in and around Climate Futures. This time, we have talked to Ellen-Margrethe Hovland from Gartnerhallen who recently took over as leader of the agricultural part of the Sustainable Food Production node.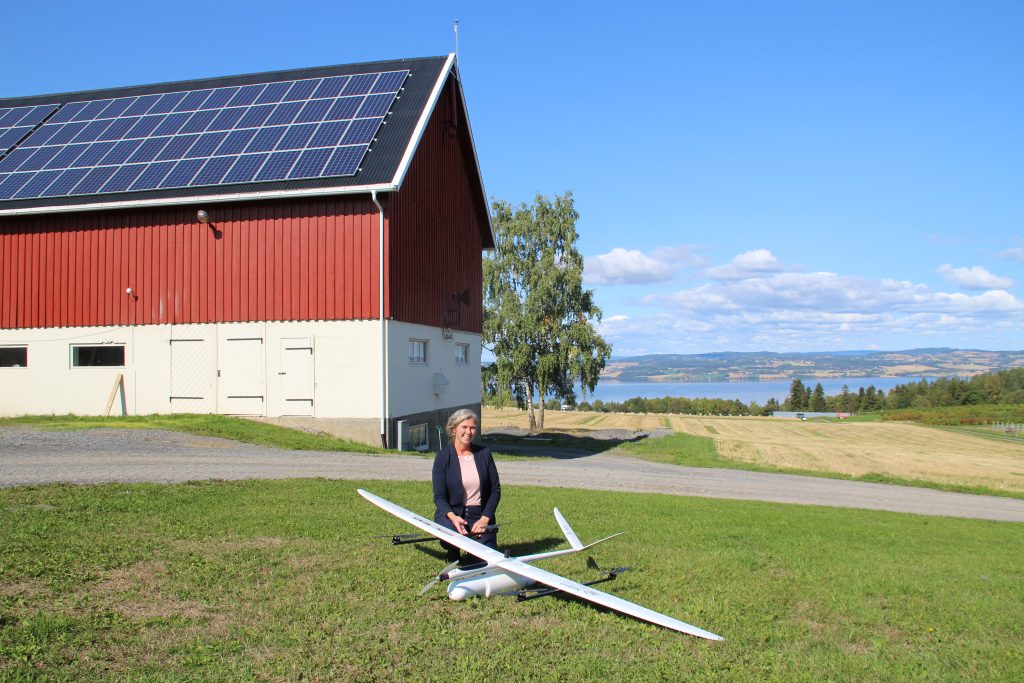 Tell us a bit about your background
I have a degree in Public Health Nutrition and a cand. scient in Clinical Nutrition from the University of Oslo. After my studies, I worked in the pharmaceutical industry before living a few years abroad. Since I returned to Norway in 2006 I have worked for different agricultural companies focused on meat, eggs, and dairy. I have worked in Gartnerhallen since the spring of 2018.
What is your role in Gartnerhallen?
I usually say that I work with everything new and cool in Gartnerhallen. This is because I have the overall responsibility for research, development, and innovation in our organisation, which is co-owned by 1000 Norwegian fruit-, berry-, potato-, and vegetable producers. Norwegian producers are very innovative and are always looking for better, smarter, and more sustainable ways of producing our food. The research- and development projects we are involved in are therefore concerned with everything from testing new varieties to technology development.
In what way are you/your organisation involved in Climate Futures?
Gartnerhallen is a part of the agricultural part of the Sustainable Food Production node in Climate Futures. The main part of our production happens on fields and is therefore vulnerable to varied weather and extreme weather events, whether it is frost when the fruit trees bloom, dry summers or too wet conditions in the fall to drive tractors and harvest equipment in the fields. The climate predictions indicate that in the future we will face even wetter, wilder, and warmer weather. In order to make the production as robust as possible against this we cooperate with the other partners in Climate Futures about the development of predictions that can forecast frost and other extreme events earlier and more accurately than the weather- and climate forecasts we have today.
What do you like best about your job?
The point of research- and development projects is to see potential issues before they have developed into big challenges and establish constructive collaborations with research environments that can help us find good solutions as quickly as possible. I am very happy when we accomplish that. Additionally, I am lucky to work with very nice colleagues in the administration, as well as all of our skilled and dedicated producers.
What possibilities do you think can come out of Climate Futures?
I think the centre will develop solutions that can contribute to society, Norwegian food production, and the different stakeholders taking preventative measures for themselves as well as their partners. I think this will make us better prepared for more unpredictable weather and climate. During the first year, there has been a lot of exchange of knowledge between the user partners and the FoU-environments in the different nodes. Going forward, I hope that network building across the nodes will facilitate exciting, new collaborations between the different project partners.
What positive things will come out of leading the agricultural node, and which challenges do you imagine?
Leading the agricultural node gives me an opportunity to know even more about what is happening, both in this node and in the other parts of the centre. The agricultural node consists of many partners spread around different parts of the country with different sets of competence who all have their own motivation for being a part of the centre. Creating relevant activities for all of them will be a challenge. However, as we get to know each other better, I think improved information flow and network building will help us succeed.